EuroSort (Owings Mills, MD), a leader in innovative sortation solutions, developed the Cross-Tray Sorter in 2020. This sorter is an industry disruptive technology that solved the shortcomings of other high-speed unit sorters for non-conveyable, fragile, and lightweight items. Expanding on the success of the Cross Tray Sorter for smaller items, EuroSort has developed a series of larger Cross Tray Sorter carriers. The new series of carriers increase the sortable product range, improve integration with robotic induction and provide a more cost efficient solution over traditional cross belt technology.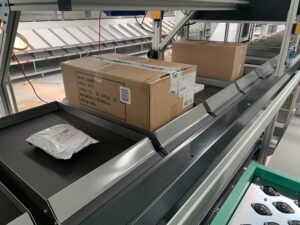 The EuroSort Cross Tray Sorter is based on the mantra "If it fits, it sorts". Utilizing a patent pending, mechanically driven, two-sided discharge, with active walls forming a "pocket" in the tray, the Cross-Tray Sorter builds on the basic principle of a traditional Cross Belt Sorter while drastically improving the function and performance. The mechanical discharge decreases complexity, cost, energy usage, and footprint, while the "pocket" in the tray allows for increased accuracy and a larger range of sortable products including round and cylindrical items. Regardless of shape, every item will be discharged to the correct location every time.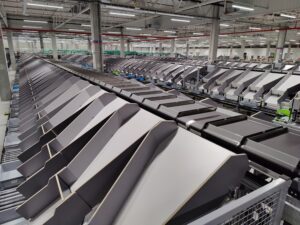 The new series of Cross Tray Sorter carriers is for companies that have an extremely broad product range and require a technology that can gently and effectively handle their entire inventory including large, small, heavy, light, fragile, non-conveyable, round or cylindrical items without damage.
Contact EuroSort today to see how the EuroSort Cross Tray XL could fit in your operation!