The battle for customer satisfaction is fought in the distribution center. Everything that happens within the 4 walls has a direct influence on the customer experience; Time and accuracy being perhaps the most important two factors of all. The right sorting system can make all the difference. Though there are many options on the market, today we compare two popular systems side by side for you – The Cross Belt Sorter and the Cross Tray Sorter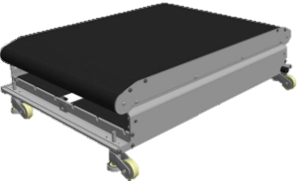 The Cross Belt Sorter
A commonly used sorter for distribution is the Cross Belt Sorter. A multi-functional machine with trays that use conveyor belts to eject items either left or right. The belted discharge system is driven either mechanically or with an advanced servo motor. Generally, these sorters are used in heavy duty applications such as for airport baggage, shipping sorters, and other tasks requiring a high max weight – up to 70 lbs. or more.
Benefits of the Cross Belt Sorter
A Cross Belt Sorter can run at a high speed (up to 3 m/s), which allows for a high throughput (up to 40,000 uph)
Cross Belt Sorters can handle a varied product range. In general, an ideal range consists of 80% boxes and about 20% separate (flat) items.
Heavy, large, or bulky items are no problem for a Cross Belt Sorter as many are extremely heavy duty.
Negatives of a Cross Belt Sorter
A Cross Belt Sorter has to run at a high speed to achieve the required throughput and, thus, the chutes need to be larger to catch items coming off the sorter at speed. This drastically increases the size of the sorter.
The high running speed of a Cross Belt Sorter requires the use of automatic inductions, adding cost and complexity.
The heavy-duty, complex, nature of the Cross-Belt sorter means a high price tag.
Complex maintenance requirements can necessitate experienced technicians on site.
Additional operating costs due to high energy draw and specialized power distribution.
Polybags, irregular product, overfull cartons, and small items have a tendency to fall off of a Cross Belt Sorter in turns (See below picture)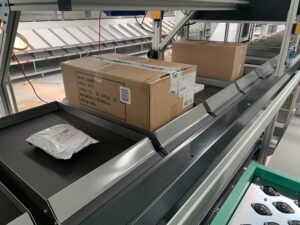 The Cross Tray Sorter
The Cross Tray Sorter is a variation of the Cross Belt Sorter that takes the basic idea of a Cross Belt sorter and takes it to the next level to better focus it towards the needs of today's warehouse. The Cross Tray Sorter also features a tray using a conveyor belt to discharge items; however, it utilizes 4 walls to contain items and prevent them from falling off trays around corners. With a slower max speed, the Cross Tray Sorter has a small footprint and a dense sort.
Benefits of a Cross Tray Sorter
The Cross Tray encloses an article on 4 sides, so can handle a large variety of odd-shaped articles that tend to move around including ball shaped, egg shaped, cone, cylinder, etc.
Smaller discharges contribute to a 50% smaller footprint than the Cross Belt Sorter
Mechanical discharge reduces overall pricing and complexity.
Lighter weight construction allows for significantly lower power draw and reduced operating expenses.
Simple tray design allows for easy maintenance and less downtime.
Heavy duty tray options allow for max weights of up to 50 lbs.
Negatives of a Cross Tray Sorter
A maximum speed of 1.2 m/s means that the max throughput of a Cross Tray Sorter is only 16,000 items/hour.
Cannot handle items above 50 lbs.
There are many variations of the Cross Belt Sorter, but with a simple design, low price tag, small footprint, and unique trays that guarantee increased accuracy, EuroSort's patented Cross Tray Sorter is a clear choice for companies looking for unit sortation of items below 50 lbs.
Reach out to EuroSort today to see if a Cross Tray Sorter makes sense for your operation!